Bathrooms
Creating the perfect master bathroom is at the top of the list for many when it comes to building their dream home. Whether you know exactly what you want, or need some help putting your ideas on paper, our team can help. Sullivan & Forbes has over 20 years of experience building homes and designing custom bathrooms. We strive to turn our client's ideas into their dream homes. Please view our photo gallery to see images of our custom bathroom and remodeling work.
Bathroom Design
Bathrooms are a very personal part of the home where each client has their own style and design preferences. Hiring an experienced builder with an eye for design will help ensure that the bathroom incorporates your wishes but is also a high quality, functional space. If you browse our photo gallery you will see bathroom designs that vary in style from traditional, to rustic and modern.
Consider the layout of your bathroom. The idea is to arrange the features to maximize the space you have. Features such as flooring, fixtures cabinetry and lighting must be crafted together with design, style and functionality to sculpt the perfect bathroom.
A bathroom design or remodel can create a great deal of stress which is why it's helpful to hire an experienced professional. At Sullivan and Forbes, we are here to make the bathroom renovation an enjoyable experience. Each bathroom we remodel has its own unique layout and design. To begin designing your dream home and bathroom, request a consultation online or stop by our design center in Gainesville, Ga.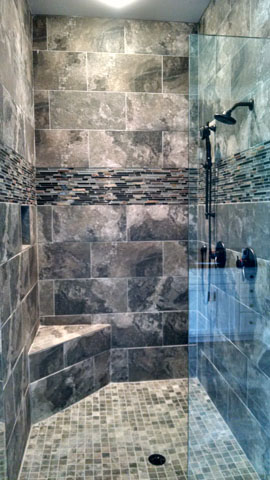 For more information about Sullivan & Forbes we invite you to read testimonials from our clients or visit our About page.
Ready to Get Started?